Fabio Sciarrino, Esq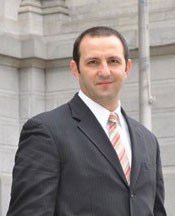 Biography:
Fabio was born on the island of Sicily, Italy in 1977. After obtaining his Bachelor of Arts Degree in History from Temple University, Fabio attended Temple University's James E. Beasley School of Law. While in law school, Fabio served in the Major Trials and Charging Units of the Philadelphia District Attorney's Office. In the Major Trials Unit, he worked alongside seasoned Assistant District Attorneys in trials of felony cases. In the Charging Unit, Fabio conducted arraignments and bail hearings on behalf of the Commonwealth of Pennsylvania. Also while in law school, he served as a law clerk to the Honorable Jane Cutler Greenspan of the Criminal Trials Division of the Philadelphia Court of Common Pleas. While in law school, Fabio also worked at the Southeastern Pennsylvania Transportation Authority (SEPTA) and the Solicitor's Office for the City of Philadelphia, successfully helping defend numerous claims and lawsuits filed against these entities.
In law school, Fabio served as the Senior Production Editor for the Temple Political and Civil Rights Law Review. That same year, his authored article, titled The Doctor Will See You Now, Be Sure to Bring Your Privacy Rights In With You, was published in the law review.
Fabio is licensed to practice law in Pennsylvania and New Jersey, and has handled multiple personal injury cases in both jurisdictions.
Fabio has successfully represented individuals, insurance companies and self-insured entities, such as hospitals, nursing homes, skilled nursing facilities, entities in the food service industry, and entities in the commercial and construction sectors. Fabio is experienced in handling all aspects of personal injury claims and lawsuits from inception through the conclusion, whether by settlement or jury verdict.
In February 2013, Fabio joined Emmanuel Law Firm LLC to represent victims of medical malpractice and catastrophic personal injuries, and their families. Fabio has been nominated as a Pennsylvania Super Lawyer Rising Star in 2013, for his work on behalf of victims of catastrophic personal injuries and their families. No more than 2.5 percent of the lawyers in Pennsylvania, who are 40 or under, or who have been practicing for 10 years or less, are named to the list.
Fabio enjoys exercising and engaging in outdoor physical activities, such as running, biking, and swimming. He also enjoys spending quality time with family and friends, and being involved in community affairs.
Education:
Temple University, B.A. History 1999
Temple University Beasley School of Law, J.D., 2003
Bar Admissions: Pennsylvania, 2003
New Jersey, 2003
Eastern District of Pennsylvania, 2005
Professional Associations and Memberships:
Pennsylvania Bar Association
Philadelphia Bar Association
Montgomery Bar Association

Publications:
The Doctor Will See You Now, Be Sure to Bring Your Privacy Rights In With You, Temp.Pol.&Civ.R.L.R.(Spring 2003)